Amber Watters: The Path to Possibility
When Amber Watters was a child, she thought that a scientific researcher could only look like a scholarly white man, the kind she had seen on television or in movies. It did not occur to Watters that a researcher could be like her: female, black, and from Jonesboro, Ga.
All of that changed when Watters enrolled in a program established by Morehouse School of Medicine that recruits high school students to serve as apprentices in biomedical research laboratories. Students are mentored by MSM research faculty and learn the content, process, and methodology of inquiry science.
"I never would have known I could do this if it weren't for this program," she says. "It made me want to work with underserved populations, and to serve communities like the one I came from."
She learned how to be a researcher, and in the process, a difficult truth: People of color are frequently left out of data collection and analysis.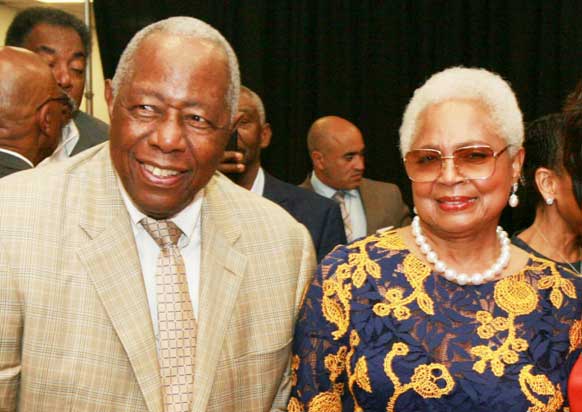 Donor Story: Billye Suber Aaron
She was busy with her own work as a teacher, preparing lessons and lectures and such, but still she caught bits and pieces of the conversations her then-husband was having in the living room of their small home on the Morehouse College campus. It was the 1970s, and Dr. Samuel W. Williams — a Morehouse professor of philosophy and religion, the pastor of Friendship Baptist Church in Atlanta, and a civil rights leader — was talking with friends and colleagues about the need for a medical school in Atlanta that focused on training and graduating black doctors.
Lamar Owens: An Eye on the Future
Lamar Owens was small, standing a few inches shorter than his grade-school classmates. But his dreams were big. Never mind that he was from a Southwest Atlanta neighborhood that can feel like a steel trap. When his mother enrolled him in Tuskegee Airmen Global (TAG) Academy, he was able to imagine a future spent in labs and classrooms, learning about science and medicine and figuring out ways to make life better for those who need help.
He's older now, and taller, and still dreaming big — he wants to be a neurologist.
The TAG Academy is just one of many pipeline programs created or supported by Morehouse School of Medicine. These programs help MSM identify, nurture, train, and monitor future health sciences professionals from underrepresented populations, starting as young as kindergarten.
Anastasia Kolousek: That Family Feeling
When Anastasia Kolousek was nine years old, living in North Carolina, her little sister was diagnosed with a fatal genetic condition called Edward's Syndrome. The tragedy was beyond comprehension for Kolousek; she wanted to help make things better, but she felt helpless and afraid. So she made a decision: She was going to become a doctor.
During college, she frequently second-guessed herself and her ability to make this dream come true. But her insecurities began to melt away after she worked as a clinical research coordinator on cardiovascular and weight loss trials. She listened to a patient talk about her new diet and how it was improving her health, and everything clicked.
"I wasn't a typical medical school applicant, but I felt that if I could make it to medical school there was a place for me as a physician," she says.
She made it to MSM, where she is a first-year medical student.
Kolousek still second-guesses herself sometimes. But when she voiced that insecurity the other day to a few classmates at MSM, one turned to her and said, definitively: "No. You will not fail. None of us would let that happen."
"The community makes MSM special," she says. "We're a team and we succeed together. I don't think that is something that is seen in many medical schools."
Brittany Thomas: "I understand what they're going through."
Brittany Thomas grew up in Southwest Atlanta, raised by a grandmother who had kidney disease. Brittany wanted desperately to help. So, after graduating with honors from Georgia Tech, she decided to go to medical school.
Though her grades and scores presented her with many options, she only had eyes for MSM and its mission. Brittany went on to graduate magna cum laude and is now a nephrologist, treating kidney disease in her old neighborhood, serving the underserved.
"I understand what they're going through," she says. "I'm from the same place they're from. My patients are like my family. I know their story — because it's my story."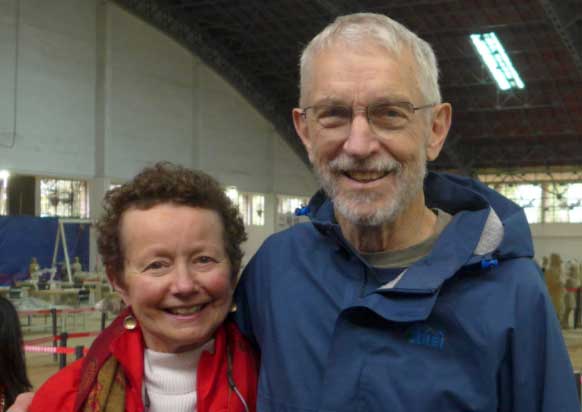 Donor Story: Dr. Zach W. Hall and Julie Ann Giacobassi
You might think a scientist and an English horn-player would have little in common, what with one being more of a pragmatist and the other a creative musician. But when Dr. Zach W. Hall and Julie Ann Giacobassi first met, backstage after a San Francisco Symphony concert, they found they shared many similar interests — including a mission to help improve lives through education and equity.
D'aja Nikole Grandberry: Pursuing a Dream
Through the bathroom door, D'aja Nikole Grandberry could hear the sound of crying—stifled in a towel, or perhaps behind cupped hands. Though she was a child, D'aja knew what was going on. Her mother was a 20-year-old single parent to two daughters, and even though she worked hard, she simply could not give them the things they wanted and needed.
But her mother didn't let that difficulty define her. She was determined to do better. So she enrolled in technical school and enlisted D'aja's grandmother to help care for the children. She inspired D'aja to keep trying, to keep tackling the obstacles, and to never be discouraged from pursuing her dream: to become a pediatric surgeon.
Dreams can get you only so far, though. She had the smarts, and the desire, but she needed a pathway to success. She found that with Morehouse School of Medicine's Undergraduate Health Sciences Academy.
Working with the Atlanta University Center Consortium, this MSM program connects undergraduates from Spelman College, Morehouse College, and Clark Atlanta University with medical-education opportunities at Morehouse School of Medicine. Through its curriculum and other programming, the UHSA exposes these students to careers in health and health sciences and how that can help them achieve socioeconomic independence.
For D'aja, the UHSA program has helped her pay for her tuition at Spelman, provided paid summer internship experiences, connected her with like-minded students in the Atlanta University Center Consortium, and prepared her for the MCATs. She's now on the path to medical school.
Sam Sheikali: Here to serve
The pink sticky note seems innocuous enough, stuck on a check written to Morehouse School of Medicine. But a closer look at the careful handwriting reveals this message:
"MSM believed in me and saw my potential when no other schools did. As a small gesture of my appreciation for all MSM has done for me, I would like to donate my first paycheck to the school that got me to where I am."
The note is signed by Sam Sheikali, a graduate of MSM's MD program and an emergency medicine resident.
He credits MSM with helping him to achieve a goal he set when he was just 15 years old, stranded with his family in southern Lebanon, listening to the sound of missiles hitting nearby towns.
Though Sheikali was born in New York and grew up in Peachtree City, Ga., his family would visit southern Lebanon every other year to reunite with cousins, uncles, aunts, and grandparents. The countryside there became almost as familiar a place to him as his hometown in the United States.
But during the family's trip in 2006, rural Lebanon became almost unrecognizable to Sheikali. The July War broke out. He saw people who had been burned from blasts, people whose limbs had been crushed by collapsed buildings. They could not get adequate healthcare, because they were poor and lived too far from a major hospital. Instead they went to small, ill-equipped clinics in the countryside — if they got help at all.
 "I became very focused on the idea of providing healthcare to the underserved," Sheikali says.
Eventually the Sheikali family was able to escape, and the sounds and sights of war would begin to fade into the background. But his desire to help others would not. He was immediately drawn to Morehouse School of Medicine.
"A lot of schools say they're here to serve," he says. "MSM truly puts its money where its mouth is."
So Sheikali decided to follow suit with his gift to the institution.
"MSM saw me as a human being, with principles. They really nurtured my success," he says. "I learned at MSM that it's about serving the underserved. I treat them as if they are my own family, the way human beings deserve to be treated. These are the principles that MSM instills in its students, and we get to carry that forward."
Woodrow W. McWilliams: True to His Roots
Woodrow W. McWilliams III was the son of a military officer, and moved from city to city and coast to coast before his family settled in Columbus, Ga. After graduating from high school, he was certain he wanted to go to college — and to medical school. So he applied to numerous institutions. His last interview was with Morehouse School of Medicine.
"There were only 35 students then, for the class," he says. "I knew MSM would be dedicated to supporting the students. MSM fosters something. Most of us have a desire to have a purpose and serve the community, but MSM really encouraged that mentality."
He never intended to go back to Columbus after finishing his studies. But the more often he visited home, the more he realized that there was a lot of good he could do in his county, which faces significant poverty and healthcare challenges.
"Studying community health at MSM taught me that you really need to see what's going on with people," he says. "I realized I needed to go back home."
So, after finishing his residency in 2010, he returned to Columbus.
"Morehouse School of Medicine does a very good job of encouraging students to pursue not just altruism but to see and understand the need," McWilliams says.
He is now a radiation oncologist and physician at the John B. Amos Cancer Center in Columbus.
"We take care of folks in the community," he says. "We've even cared for a couple of my teachers. I've taken care of my friends and my parents."
He has also made a real investment in MSM, serving as a trustee since 2014 and remaining an active donor with wife Venus McWilliams.
"The mission of the cancer center is to take care of everybody, whether they live under the bridge or own it," McWilliams says. "That's what MSM stands for too."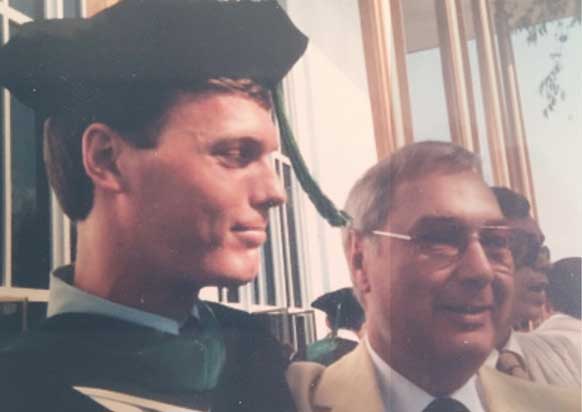 Donor Story: Dr. John Lipman
Patients put out their best hand towels when Dr. Earl S. Lipman was making a house call. He wore his finest suit and tie from Hickey-Freeman and carried a black leather doctor's bag. His young son, John, was sometimes by his side.
John loved to watch his father work as a solo internist in Rochester, New York — the special care the doctor took to listen to and diagnose his patients, and the way the patients responded with appreciation and respect. John's home brimmed with their baked goods during the holidays.
Chivon Stubbs: "This is what I want to do"
The little girl had cerebral palsy, and her father spent all of his time and money caring for her, never seeing to his own health. Then he learned about the free clinic founded and run by Morehouse School of Medicine students and residents. There, at what is now known as the HEAL Clinic, he learned he had asthma, and he received the care and medication he needed but had never been able to afford.
Since 2011 the HEAL Clinic has made an enormous difference to the impoverished and underserved in Atlanta. And it has made an enormous difference for future doctors like Chivon Stubbs.
Stubbs grew up in Southwest Atlanta near a community hospital that was a very large training site for MSM students. They tended to the sick and needy in the surrounding neighborhoods — until it was forced to close. Stubbs saw how that hurt the health of the people around her, and this spurred her to pursue family medicine at MSM.
She volunteered during the earliest days of the HEAL Clinic.
"It took so much work to rally resources and get this up and running," says Stubbs, who went on to become a resident at MSM. "But right away I could see we were making a difference in people's lives."
She met so many patients like the man with asthma — patients who had never before been to the doctor and who were incredibly grateful for the care they received at the clinic.
"One woman told me, 'You made me feel like a queen for a day,'" says Stubbs.
"Seeing the impact we could make in people's lives helped me come to the realization that this is what I want to do with the rest of my life."
Dr. Angela Martin has helped lead the struggle in Anniston, Ala., to gain environmental justice for the black community that has suffered from the effects of years of dumping by chemical plants.
Dr. Michelle Staples-Horne was the first Medical Director of Georgia's Juvenile Justice System and for 20 years oversaw the healthcare of more than 34,000 youth.
Dr. Regina Benjamin established a family practice in the tiny Alabama town of Bayou La Batre. She went on to become U.S. Surgeon General.
These doctors are all graduates of Morehouse School of Medicine. They carried forward our vision of better access, quality, and equity, and went back into the community to make a difference.
They understood what is true about MSM: Most medical schools talk about commitment to community, but we are different — we practice what we preach. And the proof is in the impact.
We hope you will join us on this journey of transformation.
Let's make an IMPACT.