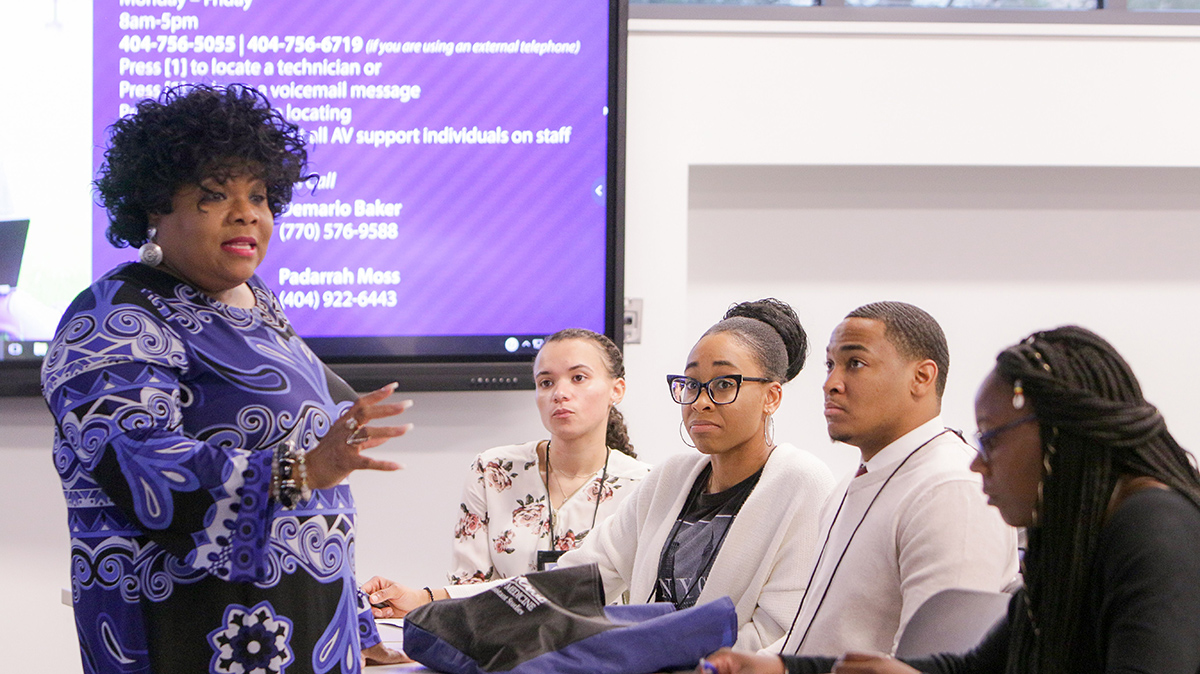 Morehouse School of Medicine Physician Assistant Program Awarded $1.5 Million Federal Grant for Primary Care Training
Program Strengthens Learning Engagement Between Students, Professional Preceptors, Helps Funnel Graduates to Rural, Underserved Settings
ATLANTA—July 16, 2020—In only its second year of existence, the Morehouse School of Medicine Physician Assistant Studies program has been awarded a $1.5 million federal grant to enhance and expand primary care training for physician assistants, particularly in rural and underserved settings, a core component of the institution's mission.
MSM is among the nation's leading educators of primary care physicians and has twice been recognized as the top institution among U.S. medical schools for its dedication to the social mission of education,
This grant will greatly enhance our ability to train culturally competent physician assistants, who play such a significant role in expanding access to health care.
 Pangela Dawson, PhD
The Primary Care Training and Enhancement Grant from the Health Resources & Services Administration, part of the U.S. Department of Health and Human Services, will fund the MSM's Physician Assistant Leader Superstar – PALS – training program. The program will provide PA students with innovative training emphasizing integrated primary care and behavioral health with a pipeline to rural healthcare practices following graduation.
"Morehouse School of Medicine itself and the Physician Assistant Studies program were both created specifically to address the nationwide shortage of primary care physicians, particularly in historically underserved communities," says Pangela Dawson, PhD, the program's founding director. She notes that the COVID-19 pandemic has shone a spotlight on many endemic problems in the health care system, including biases and health disparities, along with the critical need for increased diversity across the health care professions.
"This grant will greatly enhance our ability to train culturally competent physician assistants, who play such a significant role in expanding access to health care," Dawson adds.
The PAS program debuted in 2019 with a 20-student inaugural cohort class. The Class of 2022, with 30 members, began its collective academic journey with orientation on June 1.
The PALS program also provides training for primary care preceptors – experienced practitioners who provide supervision during clinical practice and facilitate the application of theory to practice for students and staff learners. Upon completion of preceptor training, the practitioners will become PA Leaders. Students will pair with PALs for primary care rotation during their second-year clerkship.
MSM PAS leaders will recruit students from rural and underserved communities, especially underrepresented minorities and veterans, and will challenge them to enter primary care practices in underserved and rural communities after graduation. The program will train 170 students and 34 Preceptors over the five-year course of the program.
PALS/Preceptor sites will initially be located at Atlanta's Grady Health Care Systems/Hospital along with federally funded health centers and VA hospitals throughout rural Georgia. MSM also has formed partnerships with health care organizations in rural Dougherty, Laurens, Pickens and Union counties.
The training program is grounded in a public health/behavioral health framework, including social determinants of health, population health, integrated care, health promotion and disease management, leadership, quality improvement, policy reform and cultural/linguistic competence. The program will leverage training activities from MSM's Kennedy-Satcher Center for Mental Health Equity, Integrated Care Leadership Program for students and preceptors.
---
About Morehouse School of Medicine
Morehouse School of Medicine is located in Atlanta, GA. It exists to improve the health and well-being of individuals and communities; increase the diversity of the health professional and scientific workforce; and address primary health care through programs in education, research, and service, with emphasis on people of color and the underserved urban and rural populations in Georgia, the nation, and the world. The faculty and alumni are noted in their fields for excellence in teaching, research, and public policy, and are known in the community for exceptional, culturally appropriate patient care. Morehouse School of Medicine is accredited by the Commission on Colleges of the Southern Association of Colleges and Schools to award doctorate and master's degrees.
We hope you will join us on this journey of transformation.
Let's make an IMPACT.